Faculty development encompasses all activities related to the induction, training and further development of faculty members so as to optimize their effectiveness as teachers, trainers and leaders in education. While most teachers in medical education accomplish the task of teaching by emulating their seniors, and by trial and error, the need for systematic faculty development programmes (FDP) is well established. Faculty development is considered an essential tool to cope with new teaching tasks and is a means for participants to build important career relationships with peers, mentors and academicians who contribute to academic advancement. Recognizing the importance of improving the quality of Medical education, its role in improving health care and the development of our own faculty, our Medical College established its own Medical Education Unit in 1997. Over the years the department has progressed and presently is one of the excellent group with like minded, passionate team members with a single objective of improving the educational policies, strategies and improving outcomes. All the members are primarily teaching faculty in various specialties working together for the cause in addition to their responsibilities.
FORMAT & CONTENT
Methodology used is dependent on the needs, learners and focus areas with emphasis on learner centric methods. Commonly used methods are workshops, hands on training, orientation and re orientation, updates and Guest lectures and other innovative methods. Each activity is planned and executed as per needs, feedback in consonance with academic and statutory needs. All the programs are revised as per needs and feedback regularly.
THE FACULTY
The faculty members of the Medical Education Unit consist of the Head of the Department, a Co-ordinator and other part-time members. The part-time members or teachers have their full-time responsibilities in their parent departments. Their contributions to the department, in terms of time, energy and scientific inputs are on a voluntary basis for the cause of Medical Education. The Medical Education Department is open to any faculty member who is trained or interested in any aspect of Medical Education.
we offer round the clock service
ACTIVITIES OF THE DEPARTMENT
The department is involved in various  medical education related responsibilities like, curriculum development, preparation of necessary course material for various courses, review and organize capacity building  of the faculty related to teaching skills, coordinating and participating in various such activities with other departments, arranging workshops, guest lectures and any such activity, encouraging and training teachers in e learning etc.
THE MEETINGS:
The yearly calendar of activities of the Medical Education is planned at the beginning of the academic year. The meetings, as of now, are scheduled as per the forthcoming event. Anyone interested in attending the meetings, apart from the members, are welcome and encouraged in the same
Faculty who underwent Advance Course Medical Education Technology (ACME/FIME)
Sl. No.
Name of the faculty
Designation
1
Dr. Vidya A Patil
Prof.& HOD of Anesthesiology
2
Dr B R Yelikar
Prof and Head of Pathology
3
Dr. Surekha B Hippargi
Prof Dept of Pathology
4
Dr. Tejaswini Vallabha
Prof of Surgery
5
Dr. Lata M Mullur
Assoc. Prof. Physiology
6
Dr. Rekha Udgiri
Prof. of Community Medicine (Pursuing)
7
Dr. Deepa Sajjanar
Asst. Prof. of Biochemistry (Pursuing)
8
Dr Anant Khot
Assoc Prof of Pharmacology (Pursuing)
9
Dr Praveen Ganganahalli
Assoc Prof. of Community Medicine (Pursuing)
10
Dr Sumangala Patil
Professor and Head Physiology (Pursuing)
11
Dr Vijaya Patil
Professor, Dept of Surgery (Pursuing)
Curriculum Development And Revision Of Curricula
The department co ordinates all the BOS of the University in revising and updating curricula. It is the core team for suggesting appropriate teaching –learning methodology for the courses and screens all the curricula and updates them regarding regulations and supports the teams in framing the course content, T-L methods and assessment methods.
Guest Lectures, CME & Panalities
The faculty of the department are actively involved in delivering guest lectures, Panelists and in educational research resulting in publications. It conducted International CME in Medical Education & Research, Global Perspectives. Doyens of Medical Education like Dr. Robert Carroll. Professor of Physiology and Father of Modern Medical Education. East Carolina University, USA. Dr. Vivek A Saoji. Dean Bharati Vidya Peeth Deemed University, Pune., FAIMER Fellow and International Resource Person in Medical Education and Dr. Jyoti M Nagmoti, Director, University Department of Health Education KLE University, Belagavi participated.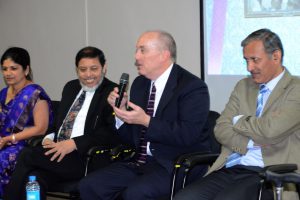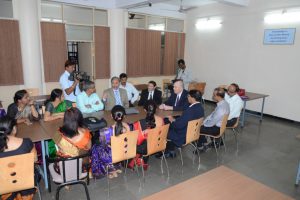 MCI  –  Curriculum Implementation Support Program (CISP) : 
Competency based medical education (CBME), 2.IMG: Goals, roles &Competencies
Deriving objectives from competencies, 4. Linking competency objectives to Teaching Learning Methods (TLM)
Linking competency objectives to Teaching Learning Methods (TLM)
Proposed changes in Graduate Medical Education Regulations (GMER) 2019
Electives, Foundation Course,  7, AETCOM module, 8,Early Clinical Exposure (ECE
Integration
Aligning & integrating competencies
Skills training
Assessment in CBME
Aligning assessment to competency objectives &TLM
Learning Resource Materials
Curricular governance
The road ahead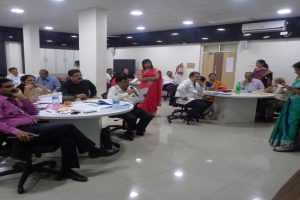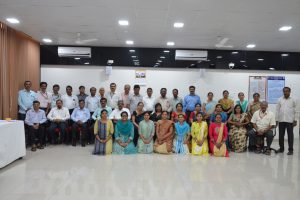 SENSITIZATION :
GMER – 2019 and Principles of CBME
Foundation Course
Seven Principles of Integration
Early Clinical Exposure
International CME in Medical Education
Theme: Competency based medical education,the path ahead,
 From: 05-09-2019 to 06-09-2019, Venue: Medical Education hall
Key note address Medical Education : Why change & why now ? – Prof Robert Caroll
Tailoring learning strategies for Competency based curriculum – Dr Renuka Sharma
Need of CBME in Indian Scenario – Dr. Sunita Patil,
Critical thinking skills – Dr Mahalakshmi V.N.
Documenting the knowledge, Skills & Attitude in USA Medical School education-Prof Robert Caroll
6.Skills training & competency acquisition – Dr Mahalakshmi V.N
Incorporation of values, ethics & empathy in outcome based Medical Education- Dr Sunita Patil
Designing teaching & learning methods in CBME: hands on activity-Dr Renuka Sharma