Centre for Yoga and Exercise Science
Yoga or yogasanas are considered as art and science of healthy living by our ancient gurus. It is a method to bring the harmony of body and mind for general well-being. Yoga is considered as one of the greatest gifts to the world by Indians for healthy living.  Keeping its various advantages and proved evidence in improving the health, efficiency and managing stress-related problems, it was decided to start the Yoga centre at BLDE. Yoga centre was started in the year 2000. The centre is functioning since 2010. 2020 onwards the Yoga centre named as 'Centre for Yoga and Exercise Science' at BLDE (DU). Centre had focused on role of yoga in the prevention and management of hypertension, diabetes mellitus and cardiovascular disease this center is planning to assess the role of yoga in Alzheimer's, arthritis, cancer, COPD & various other disorders.
Aim is to provide yoga practice to the public to improve health and Yoga Therapy to the patients who are suffering from various kinds of disorders along with all modern facilities of treatment available in the hospital. Also to train faculty, students and community for understanding the scientific basis of Yoga and practice various yogasanas effectively and correctly for the personal benefit.
To correlate between yoga and modern medicine
To enhance knowledge on Indian traditional holistic mind-body medicine
To train the medical students on the importance of mind-body therapy and its clinical benefits.
To improve teaching, therapy and research in the field of yoga.
To spread the value based knowledge of therapeutic potential of yoga amongst the medical professionals.
To propagate the importance of yoga for healthy living.
To spread the potentialities of yoga and contributions of yoga for healthy living.
To provide quality yoga therapy for the staff and patients of BLDEDU
To conduct collaborative research projects with different departments in BLDEDU
To standardize yoga techniques and procedures followed for various disorders
To organize seminars, workshops, symposia and conferences on yoga
To conduct yoga classes for BLDEDU staff, students and public for general wellness
To create public awareness by awareness programme, camps on the beneficial effect of yoga practice for public.
It aims to develop the skill to apply Yoga techniques in the treatment of health disorders along with proper classical knowledge of Yoga as well as laboratory studies. Students who are trained here may run their own Yoga centers, join hospitals or colleges to work as an expert in Yoga Therapy or as lecturer in Yoga Therapy. The course also concentrates on research in the field of Yoga science and Yoga Therapy.
Periscope: It is an automated cardiovascular analyzer. It analyze arterial stiffness, estimates simultaneous four limb blood pressure, Central aortic blood pressure and cardiac indices from pressure analysis. 
Dicrowin: DicroWin PPG Analysis System (Pulse Plethysmography Analysis system). Offered system is a PC Windows based PPG (Pulse Plethysmography) Analysis system, which is extremely used for various disciplines of medicine viz. Pharmacology, Cardiology, Physiology etc.
CANWin:  CANWin is a PC based Cardiac Autonomic Neuropathy (CAN) Analysis system with interpretation. It analyses both Sympathetic and Parasympathetic autonomic nervous system response of the patient.
Extramural Funded Research projects
Effect of Yoga based cardiac rehabilitation program on vascular endothelial function in patients with MI: A MECHANISTIC SUBSTUDY OF Yoga CaRe trial.
Funded by Centre for chronic disease control (CCDC),  Division of Clinical trials.
Effect of a Yoga based cardiac rehabilitation programme (Yoga- Care) on cardio vascular health: a clinical trial (India) and mechanistic study (UK).
Funded by Vision Group of Science and Technology (VGST), Govt of Karnataka
Other research projects
Role of Yoga training on cardiopulmonary fitness in cyclists of Bijapur.
Effect of yoga on endothelial function, vascular compliance and sympathetic tone in elderly subjects with increased pulse pressure: a randomized clinical study. (Click here)
Memorandum of Understanding (MOU)
Between BLDE (DU) and Morarji Desai National Institute of Yoga (MDNIY), Ministry of Ayush, Government of India.
Aim of the MOU: Deeper understanding of Yoga philosophy and practices based on ancient Yoga Traditions for holistic health and well-being of all.
Objectives of the MOU:  1. To develop, promote and propagate the philosophy, science and art of Yoga. 2. To provide and promote facilities of teaching, training, therapy and research.
Vision of the MOU: Health, Happiness and Harmony for all through Yoga
Mission of the MOU: To provide the best of Yoga Education, Training, Therapy and Research facilities to the aspirants, researchers and practitioners of Yoga to meet the aspirations of modern age
Established:
"Advance Centre of Yoga for Cardiac Prevention and Rehabilitation"
Value-added certificate course in Yoga
Foundation course in yoga science for wellness in collaboration with MDNIY
Short-term heart rate variability measure in sub junior athletes and non-athletes.
Effect of Yoga on short term heart rate variability measure as a stress index in sub junior cyclists: A pilot study.
vascular, endothelial and autonomic changes following yoga therapy in elderly with increased pulse pressure
Comparison of the effects of yoga and lifestyle modification on grade-I hypertension in elderly males: A preliminary study.
Effect of Yoga on Endothelial Function, Vascular Compliance and Sympathetic Tone in Elderly Subjects with Increased Pulse Pressure: A Randomized Clinical Study
Effect of yoga on oxidative stress in elderly with grade-I hypertension: a randomized controlled study
Effect of Yoga on arterial stiffness in elderly with increased pulse pressure: A randomized controlled study
Abstract P161: Effect of Yoga Program on Cardiovascular Function in Elderly with Stage-I Hypertension
Comparison of yoga and walking-exercise on cardiac time intervals as a measure of cardiac function in elderly with increased pulse pressure
Effect of yoga on cardiac autonomic dysfunction and insulin resistance in non-diabetic offspring of type-2-diabetes parents: A randomized controlled study
Management and prevention of hypertension in the elderly: A yogic approach
Effectiveness of yoga on arterial stiffness: a systematic review
Yoga-based cardiac rehabilitation after acute myocardial infarction: a randomized trial
Effectiveness of yoga on arterial stiffness: A systematic review
Does Yoga Based Cardiac Rehabilitation (Yoga-CaRe) Programme Improve Endothelial Function and Reduce Oxidative Stress in Patients With Acute Myocardial Infarction?
Association of Low-BMI with Aortic Stiffness in Young Healthy Individuals.
Status of Physical Fitness Index (PFI%) and anthropometric parameters in residential school children compared to nonresidential school children.
Influence of yoga practice on anxiety level of apparently healthy female subjects of Bijapur (karnataka).
Bhastrika Pranayama: A longitudinal study of its effect on Blood Pressure, Heart Rate, MEP & PEFR of healthy young students
Role of yoga in modifying anxiety level in women.
A study of short term yoga training effect on respiratory endurance and muscle strength in elderly individuals
The Centre for Yoga and Exercise Science is located in the in the ground floor of Physiology quadrangle and the yoga unit is functioning from 9 AM to 5.00 PM on all working days of BLDEDU. Yoga therapy sessions are delivered by qualified doctors and yoga instructors for patients & staff of BLDEDU, Yoga therapy sessions were conducted in the forenoon & afternoon. Two sessions in the morning (9.30am to 10.15am and 10.15 am to 11.00am) and one session in the afternoon (3.15pm to 4.00 pm), apart from the above mentioned program, a special yoga therapy class for general wellness is provided for BLDEDU staff & their dependents, BLDEDU students and patients in the evening from 5.30 PM to 6.30 PM on all working days of the institute. Yoga training facilities are provided for research projects, undertaken in yoga and yoga awareness programs are conducted for BLDEDU students and community.
International Yoga Day on theme "Yoga at Home with Family" on 21st June, 2020 at the Deemed to be University. Total 60 students & 02 teachers have participated in the Programme
NSS Unit with Yoga centreof BLDE (Deemed to be University) organized "International Yoga Day" at BLDE (Deemed to be University) campus. Demonstration of Yogic postures done by Dr.satish Patil on 21st June 2019. Total 70 students & 50 teachers have participated in the programme
NSS Unit with Yoga centre of BLDE (Deemed to be University) organized a programme on "Yoga Life Style Consciousness" for the NSS Volunteers from 02nd to 3rd February 2018 in Anatomy Gallery Hall, between 3.00pm to 5.00pm. Total 30 students & 17 teachers have participated in the programme.
The 4th International Day of Yoga was celebrated on 21st June, 2018 at Dr. P. G. Halakatti Bhavan, located in our BLDE (Deemed to be University) Campus. Total 60 students & 50 teachers have participated in the programme.
3rd 'International Day of Yoga' was organized by the University in coordination with NSS, on June 21, 2017.Total 60 students & 50 teachers have participated in the programme.
Blood donation camp was organized by BLDE Blood Bank on 25-6-2017, International Yoga day Chadchan, Total 02 students & 02 teachers have participated in the programme.
International Yoga Day' was arranged by Dept. of NSS, from June 21, 2016, Chief Guest Dr.SubramnyamPayloor, Registrar, Shri Vyasa University, Bengaluru, inaugurated the event. Dr. M.B. Patil, Hon'ble President, BLDE University and Faculty members were present. Total 100 students & 47 teachers have participated in the programme.
'International YOGA DAY ' was celebrated on June 21, 2015 in Vachana PitamahaDr.P.G.Halakatti Building, in the campus. Total 90 students &15 teachers have participated in the programme.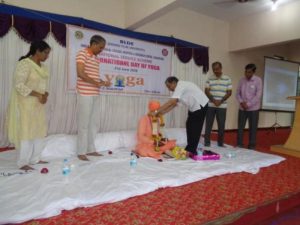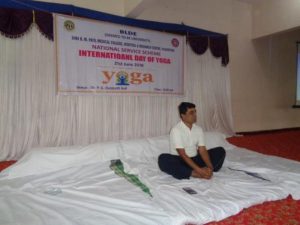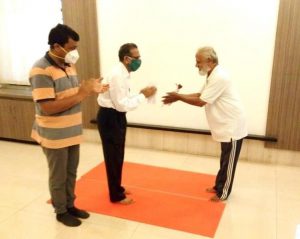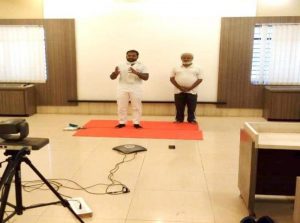 Previous
Next