The department of Microbiology was established in the year 1988 with undergraduate course. The department was recognised for postgraduate courses in the year 2005. Total number of teaching faculty is 11, of which 3 are Professors and recognized PG teachers, 3 are Associate professors out of which 2 are recognized PG teachers, 3 Assistant professors and 2 lecturers. Total numbers of non teaching staffs are 18. The intake of MBBS seats is 150 and for post graduate courses; 2 MD & 4 PhD seats. The department also runs MSc. Medical Microbiology and BSc Nursing, Post Basic Nursing Teaching Programme.
We are proud to have State Reference Labrotory under National AIDS control organization (NACO).  The state reference labrotory in the Department is actively involved in organizing EQAS (External Quality Assessment Programme, Training of technicians of ICTC/PPTCT and HIV sentinnal surveillance programme under NACO.
Collaborative research project: "Molecular diagnosis of human brucellosis by real time PCR" Dept of Biotechnology, Akkamahadevi women's University Vijayapur and Dept Microbiology, shri.B.M.Patil Medical College Vijayapur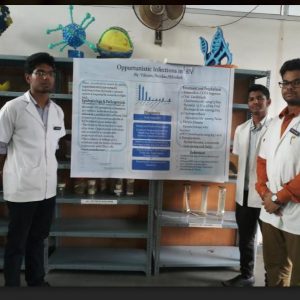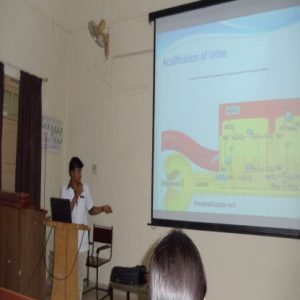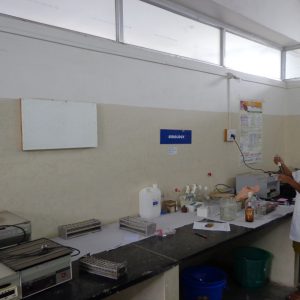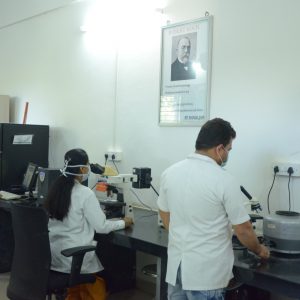 BOD incubator-2
Deep freezer-2
Refrigerators-9
Laminar air flow cabinet -1
Water baths-3
Electronic balance-1
Hot air oven -2
Autoclaves-3
Anaerobic apparatus-4
Serum inspissators- 4
 Distilled water apparatus- 2
Elisa strip reader and Washer-1
Lyophiliser -1
Ph meter-3
Colony counter-2
Vortex mixer-2
Darkground microscope-1
Fluorescent microscope -1
Inverted microscope-1
Binocular microscopes -8
Refrigerated Centrifuge -1
COMPUTERS-03
LCD Projector-3
Elisa Plate reader
bact-alert blood culture system
Biosafety Cabinets- 2
rt- PCR machine  installed
Bio-medical waste management
Biomedical waste means any waste, which is generated during the diagnosis, treatment or immunization of human beings or animals or in research activities pertaining thereto or in the production or testing of biological. WHO states that 85% of hospital wastes are actually non hazardous whereas 10% are infectious and 5% are non infectious but are included under hazardous wastes. Biomedical waste is different from general waste and must be segregated, collected, stored, transported and disposed off properly. When it is not properly managed, it can get mixed with general waste within the hospital and subsequently with solid municipal waste outside. This can expose the entire community to highly infectious diseases like HIV, Hepatitis B and C, Tuberculosis and other skin and respiratory ailments if not managed properly.
              The Ministry of Environment and Forests, Govt. of India notified the Bio-Medical Waste (Management and Handlings) Rules on 27th July 1998; under the provisions of Environment Act 1986 and later issued the new Biomedical Waste (Management) Rules, 2016 on 28th March and also the amendments thereof.
              The above rules apply to all persons who generate, collect, receive, store, transport, treat, dispose, or handle bio medical waste in any form including hospitals, nursing homes, clinics, dispensaries, veterinary institutions, animal houses, pathological laboratories, blood banks, ayush hospitals, clinical establishments, research or educational institutions, health camps, medical or surgical camps, vaccination camps, blood donation camps, first aid rooms of schools, forensic laboratories and research labs.
          According to the CPCB annual report of 2017 in India  there are 2, 38,259 no. of Health Care Facilities (HCFs) out of which 87,281 no. of HCFs are bedded and 1,51,302 no. of HCFs are non-bedded. The waste generation on an average in India is about 0.5 to 2 kg per bed per day. The total generation of bio-medical waste is approximately 559 Tonnes per day. Moreover, the most important process to protect public health is establishment of a manifest system of cradle-to-grave accountability for the infectious portion of a hospital's waste. "Cleanliness is next to Godliness", this phrase is to be involved with the noble profession of medical science. Appropriate management of hospital wastes is thus a crucial component of environment and health protection and it should be an integral component of health care services.
              BLDE (Deemed to be University) Shri B. M. Patil Medical College, Hospital and Research Centre offers 1100 beds, with expansive & ergonomically designed wards: high-tech central  laboratory and operation theatres; intensive cardiac care unit, emergency units and numerous other healthcare facilities. The institution is one that makes conscious efforts to inspire, foster transformation and manage beyond conventional profits and bring out the best of the mettle. They embrace a role to serve the purpose of the organization which is to make a positive impact to all of the stakeholders in health care. Hence, we have a systematic management of the Biomedical Waste in place. It deals with proper handling, segregation according to the color coding, mutilation, disinfection, storage, transportation and final effective disposal of biomedical waste.