Private Medical Institute in india
Shri B. M. Patil Medical College and Hospital are situated adjacent to each other on a campus sprawling over 45 acres of land, in the heart of the city. The campus has beautifully landscaped gardens and black stone buildings of old world charm, which are well ventilated and illuminated. Shri B. M. Patil Medical College departments, the central library and residential areas are distributed in various blocks within the campus. Shri B M Patil Medical College Hospital and Research Centre is the teaching hospital for the BMPNC.The Hospital offers 1000 beds, with expansive & ergonomically designed wards: high-tech operation theatres; intensive cardiac care unit, emergency units and numerous other healthcare facilities.The hospital building is very spacious with adequate natural illumination and ventilation. It has an eco-friendly effluent water treatment plant and incinerator for waste management. The entire campus is served by a generator for round the clock electricity supply during power failure.
One of theTop Medical College of country.
Unique teaching Learning Experience with Innovative E-Classrooms,Highly qualified & Experienced staff. Annual intake of: Under Graduate:150, Post Graduate:95, Super speciality:1.
World-Class Quality in Hospitality &Teaching
BLDEA Hospital is designed to meet the national and international healthcare standards and is committed to providing quality medical care and excellent patient service. 
Multi – speciality
Expertise
The facility brings together an expert team of super specialist doctors who work together with a compassionate nursing staff to provide patients accurate diagnosis and medical care. 
State Of The Art Infrastructure
The hospital has high-end technological infrastructure and medical facilities including advanced Operation Theaters, Digital X-Ray, MRI System, Critical Care Units & High Tech Labs.
PATIENTS TREATED EVERY YEAR
THANK YOU FOR YOUR TRUST IN US
One of India's Best Hospital for the 33rd consecutive year !












Specialty available in
Intensive Cardiac Care Unit
Neurology / Neurosurgery
Nephrology
Urology
Gastroenterology
Plastic Surgery
Endocrinology
Cardiology
Pediatric Surgery
Geriatrics
etc
Hospital is empanelled with central & state government schemes and renders cashless services to beneficiaries, procedure for the empanelment those who are eligible for the scheme are registered in the empanelment section.
Life at
Shri B M Patil Medical College
campus spread across 65 acres, with canteens, spacious Library, Post office, ATM, Bank, Beauty Saloon, Gym, Many indoor and outdoor facilities are available for sports, 24 x 7 365 Days security, Police Out Post.
In addition to our online classroom, we also offer an option to take part in a live classroom.. Here you'll be able to use the most up-to-date facilities and computer equipment for teaching and learning.
Rooms with  fully furnished with bed, mattress, wardrobe, table, chair, AC, hot water facility, bucket, mug, dustbin, curtain, lights etc.Separate Hostels for boys & girls are available  with adequate security,
Indoor and outdoor facilities are available to students for sports,various curricular, co-curricular and extra-curricular activities happening all round the year Like Music , dance , cultural Fest, Dramatics, Fashion Show.
Spacious and State of Art art Library available for students round the year  24×7. with security ,cafeteria, AC, R O water,Digital Library, in house remote access to E-resources.
Comprehensive Medical Care In North Karnataka
Asian Medical Students Exchange Program
This exchange program took place between India and Japan and was hosted by the Department of Medicine of The Osaka University Japan. Our Students Miss.Nidhi Mangalwedhe and Ms.Naravalu Divyasree, MBBS, Phase-III were part of this Program, which took place from March 9, 2019 to March 16, 2019 in Osaka, Japan. As a part of this program our Students visited Trauma and Critical Care Centre of Osaka University and Hospital, the laboratory of Department of Immunology and Cell Biology, Research Institute for Microbial Diseases museum, RIKEN which is one of the largest research institutions in Japan.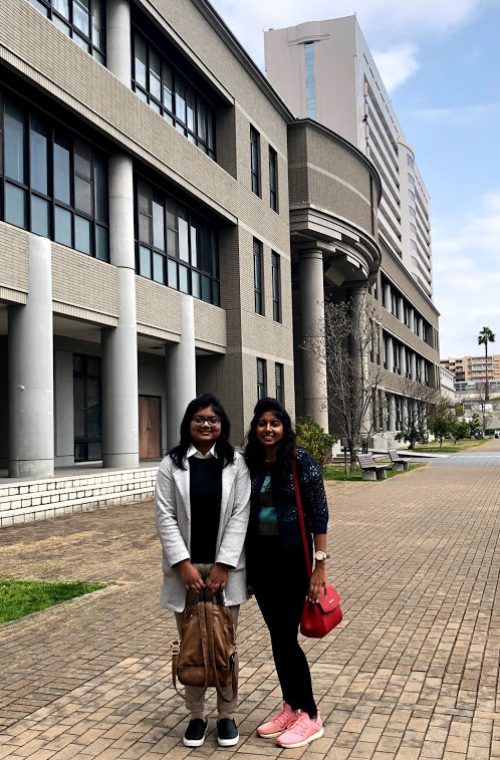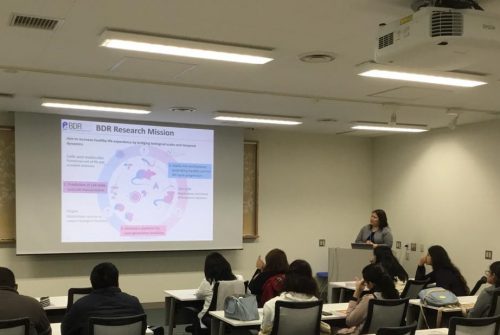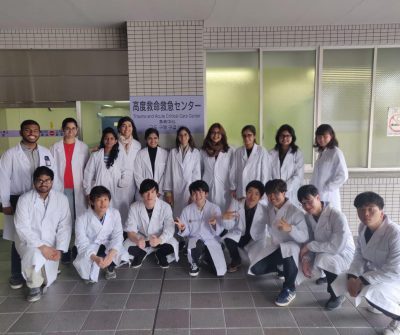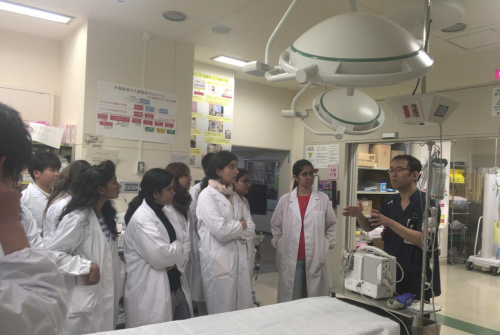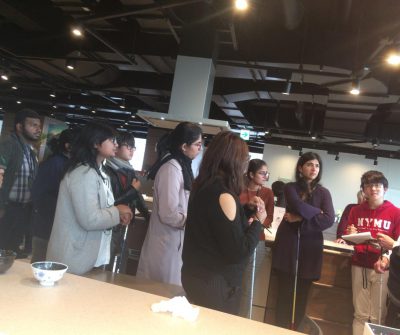 WHAT PEOPLE ARE SAYING ABOUT US !
Don't Just Take it from us,Let our Students do the talking.
Our campus is so full of Greenery and Divinity. Peaceful Library and supporting staff always encourage us in Learning. Technology Sound Classroom Help us to understand subject better


The Warm & Friendly Environment of the college has always encouraged us to the best, they have Always Provided us with Proper balance between Academic Social & cultural activities.


It was Truly amazing 4 yrs of my life.The academic & research experience was really remarkable with a great student friendly Environment. Seriously Speaking It was a home Away from Home