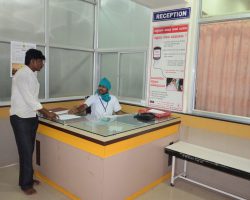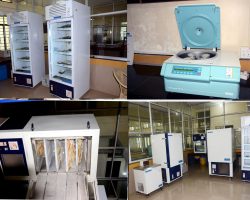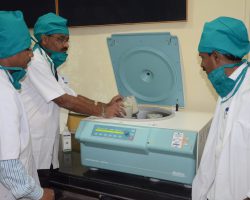 The hospital has a Blood Bank with whole blood and blood component facilities (platelets/packed cells/plasma) and has a fully functional Eye Bank, registered under Transplantation of Human Organ Act, 1994, by Government of Karnataka. These services are available 24 x 7 on all 365 days.The Blood Bank is having area 2500 square fit located at the ground floor with the facility for whole blood and blood components. It works in coordination with voluntary, government and non government organizations to conduct blood donation camps. The Blood Bank functions 24 x 7 and 365 days.
The blood bank is having rare blood group donors list. For Thalasemia patients' free blood being provided. All life saving medicines and equipments have been arranged in the blood bank. One separate register is maintained in the blood bank for outside blood units brought by the patients
Universal Donors and Recipients
The most common blood type is O, followed by type AType O individuals are often called "universal donors" since their blood can be transfused into persons with any blood type. Those with type AB blood are called "universal recipients" because they can receive blood of any type.However, since approximately twice as many people in the general population have O and A blood types, a blood bank's need for this type of blood increases exponentially.
Donate blood, only if you satisfy all of the following conditions
You are between age group of 18-60 years.
Your weight is 45 kgs or more.
Your hemoglobin is 12.5 gm% minimum.
Your last blood donation was 3 or more months earlier.
You are healthy and have not suffered from malaria, typhoid or other transmissible disease in the recent past.
Blood group of any human being will mainly fall in any one of the following groups.
WHAT YOU SHOULD EAT BEFORE DONATING BLOOD?