Biochemistry  is the area of chemistry that is generally concerned with analysis of bodily fluids for diagnostic and therapeutic purposes. It is an applied form of biochemistry (not to be confused with medicinal chemistry, which involves basic research for drug development).The Department of Biochemistry was established in the year 1986 under the able guidance of the Principal Dr. Ranade, Dean Dr. C R Bidri.Departmental library has about 234 books with latest editions of textbooks, reference books and 34 complementary books and journals.The National conference APPICON 2000 was conducted in collaboration with the department of Physiology and Pharmacology in the year 2000. Organized CME on "Stem Cell Therapy – Future of Medicine !?" on 7th November 2012. Organized a Guest Lecture on "An Overview of Inborn Errors of Metabolism" on 23rd February 2013. Organized another CME on "Recent Update on Metal Toxicity: from Biochemistry to Molecular Medicine" on 18th April 2013. Workshop on "Pre-Analytical Errors' was organized by the Department  and sponsored by Johnson and Johnson Ortho diagnostics Ltd. on 25th June 2013. Training programme on "Avoiding Preanalytical Errors in Blood Gas Testing" organized by Department of Biochemistry and sponsored by Radiometer India Ltd. Conducted on 6th Nov. 2014. Total 50 participants attended the training programme. Participants were staff members of department of Biochemistry, technicians and staff nurses belonging to CCU, NICU, ICCU and SICU wards of our hospital
The Departmental research laboratory is well equipped with latest instruments like
UV-spectrophotometer,
Top pan balance,
electrophoresis & chromatography apparatus
distillation apparatus
digital pH meter
Binocular microscope etc.
Clinical Biochemistry Laboratory was established in the same year which functions round the clock and is equipped with
Fully automated dry chemistry analyzer (Fujifilm 7000i)
Fully automated Enzyme Linked Immuno Fluorescence instrument (Mini Vidas)
Semi auto analyzer (MISPA UNO) and Turbodyne
Arterial Blood Gas analyzer (Radiometer)
Fully automated dry chemistry analyzer Vitros -250
Fully automated dry chemistry analyzer Vitros- Eci
Fully automated dry chemistry analyzer Vitros- 5,1-FS
COMMUNITY SERVICES  BY THE DEPARTMENT
Diabetic Camp: Our laboratory is conducting diabetic camp every  Thursday in collaboration with medicine department. We are processing blood glucose free of cost (Sponsored by Micro Labs Ltd, Bengaluru). More than 2,000 patients are registered under diabetic clinic. On an average every week 50-75 patients attend the diabetic clinic.
EXTENSION ACTIVITIES BY THE DEPARTMENT
Raditalk  –  AIR, Vijayapura
Raditalk on adverse effects of tobacco smoking by Dr. B B Devaranavadagi
Radio talk on Diet instructions in DM by Dr. Deepa SS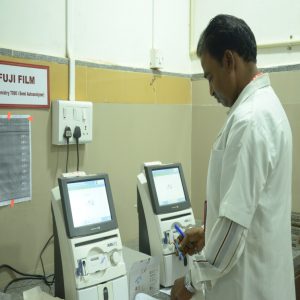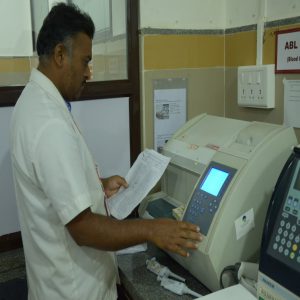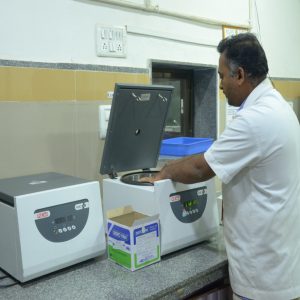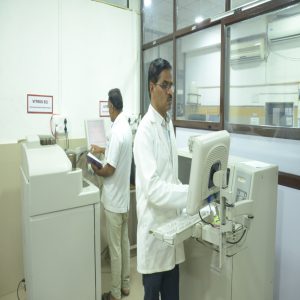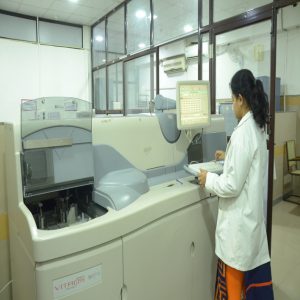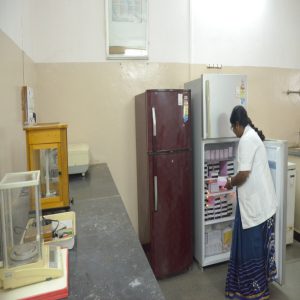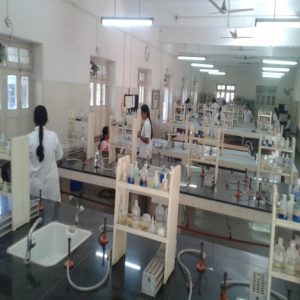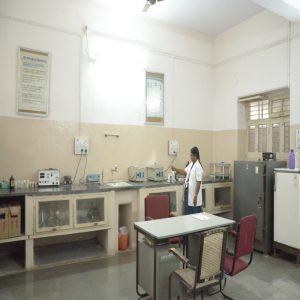 INNOVATIVE FEATURES OF BIOCHEMISTRY DEPARTMENT
Power Point Preparations and Presentations by Undergraduates- UG Seminar
Objective Structured Practical Examination (OSPE)
Collection of Bio-data of students.
Performance Improvement Test
Unannounced Test
Home Assignment
Mock Prelimnary Examination
Quiz Competition
MCQ Tests
Model Question & Answers
SALIENT FEATURES OF THE CLINICAL BIOCHEMISTRY LABORATORY 
Centrally situated with state of art in the hospital premises.
Catering 24 hours round the clock.
Experienced technical staff.
Routine and special investigations are done with utmost care for accurate and reproducible results.
Clinical Biochemistry laboratory is well equipped with new sophisticated instruments like
Fully automated dry chemistry analyzer (Fujifilm) – (7000i),
Fully automated Enzyme linked Immunofluorescence (Mini Vidas)
Arterial blood Gas analyzer ( Radiometer)
Semiautoanalyzer –Turbodyne
Fully automated dry chemistry analyzer Vitros -250
Fully automated dry chemistry analyzer Vitros- Eci
Fully automated dry chemistry analyzer Vitros- 5,1-FS
2,80,000 – 2,90,000 investigations per Year.
Registered with National External Quality Control Programme, CMC and Vellore. Since 1997 for Monitoring and evaluating biochemical Investigations (Monthly Monitoring of Quality control Samples).
Also quality control samples of bio rad are used for monitoring and evaluating biochemical investigation.
For updating of knowledge and technical skills technicians are trained periodically from service engineers and experts from the respective Instruments Companies.


WHAT PEOPLE ARE SAYING ABOUT US !
Don't Just Take it from us,Let our Students do the talking.
Our campus is so full of Greenery and Divinity. Peacefull Library and supporting staff always encourage us in Learning. Technology Sound Classroom Help us to understand subject better
The Warm & Friendly Environment of the college has always encouraged us to the best, they have Always Provided us with Proper balance between Academic Social & cultural activities.
It was Truly amazing 4 yrs of my life.The academic & research experience was really remarkable with a great student friendly Environment. Seriously Speaking It was a home Away from Home