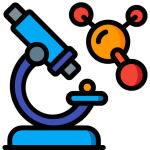 PATHOLOGY
"Your practice of medicine will be as good as your understanding of Pathology"(Sir William Osler).

Pathology literally translates to the study of Disease
More specifically, it is devoted to the study of the structural, biochemical, and functional changes in cells, tissues, and organs that underlie disease.

Vision:
To Be recognized for maintenance and enhancement of quality medical education, quality work in research &for excellence in diagnostic services.
Mission:
The Department of Pathology is committed to serve:
High-quality education by incorporating cutting edge technology for undergraduate & postgraduate teaching through ICT enabled teaching sessions.
Advanced, reliable, cost effective, accurate & timely diagnostic services by aid of Hospital Management system
To pursue research projects in collaboration with national & international premier institutions which will be of utility in the improvement of health care system.
Applying tools of Pathology science in support of public health and ongoing expansion of medical knowledge.
Overview of the Department
The department of Pathology was established in the year 1987 with an undergraduate course. The department was recognized for postgraduate courses in the year 1996. At present, a total of 11 teaching faculty with 3 Professors,4 Associate professors, 3 Assistant professors, and 1 Senior Resident are working in the department. There are 27 Postgraduate cum tutors. Six faculty members are recognized Postgraduate teachers, 2 are recognized Ph.D. guides. The total number of non-teaching staff is 31. The intake of MBBS seats is 150 per year and 13 MD seats per year for the Postgraduate course. The department also runs a Histotechnology technician course, a B.Sc. MIT course and 2 Value added courses.