Psychiatry Department  was  Established in 1989,The department has staff members trained from some of the best institutions in India like NIMHANS and AIIMS Delhi. We have both Undergraduate and Post graduate programs
We are well equipped in terms of infrastructure, staff, clinical work and Research. We have requisite License from Legal authorities to admit and treat people with Mental illness.
The department runs Emergency psychiatric services available for 24*7.  Department is active in its outreach programs-We have extended our Consultancy services to District Health authorities in monthly Mental Health Camps across the District. Department provided consultancy services to the District Hospital regularly in the past. We are part of DDRC and regularly participate in health camps conducted for the last two years.
We are committed to Heal, Educate, and Research.
It would be our constant endeavor to provide effective, evidence-   based treatments to our clientele, their families, and the community

Develop outstanding mental health education and multi-disciplinary training program to the next generation of Mental healthcare providers  

Conduct research projects that will deepen our understanding of Psychiatric illness and their management.
Santosh Ramdurg, S P Chaukimath, Manovijay Kalasagond. Prevalence of Vitamin D Deficiency in a patient with psychiatric Illness. J. Med. Res., 2019;5(6):231-235
Subhashchandra R Mudanur , Santosh Ramdurg, Shridevi Kori, Basavaraj G Patil, S P Chaukimath. Assessment of prevalence of depression and anxiety and its correlation analysis with BMI, duration of work and exercise in police personal in North Karnataka. JMR 2020; 6(4): 154-157 July- August ISSN: 2395-7565
Prakash Kori, Santosh Ramdurg. Prevalence of mental health problems in migraine patients: A hospital based study. JMR 2020; 6(5): 212-215 September- October ISSN: 2395-7565
Ramdurg S, Chaukimath SP, Manovijay BK. A case of aripiprazole-induced neuroleptic malignant syndrome. Ramdurg S, Chaukimath SP, Manovijay BK. A case of aripiprazole-Induced neuroleptic malignant syndrome. Med J DY Patil Vidyapeeth 2021;14:712-3
Ramdurg S, Mudanur SR, Bentoor S, Mudanur N. Mental health status of health care givers during COVID 19 pandemic: Cross sectional study across India. THE NATIONAL MEDICAL JOURNAL OF INDIA VOL. 35, NO. 2, 2022
Ramdurg SI, Biradar SM, Reddy PJ. Assessing caregiving burden among primary caregivers in a medical intensive care  unit setup: Cross‑sectional study. Ind Psychiatry J. 2021 Jan-Jun; 30(1): 36–40.
Subhashchandra R Mudanur, Shreedevi S Kori, Aruna Biradar, Rajasri G Yaliwal, Dayanand S Biradar, Santosh Ramdurg, Sindhu Manne. Single vs Multiple Antibiotic Drug Regimen in Preventing Infectious Morbidity in Caesarean Section: A Randomised Clinical Trial. Journal of Clinical and Diagnostic Research. 2021 Jul, Vol-15(7): QC09-QC12
The department has various special clinics conducted regularly on specified days/time for specific illnesses.
The Department is well equipped with latest instruments to treat various Psychiatric disorders like
ECT-Brief pulse
ECT with EEG monitoring
EEG machine
Biofeedback
Alcohol breath analyser
Projective tests
Intelligent tests
Personality tests
Neuropsychological Tests
The department is active in research with 6 projects completed so far with 2 ICMR students' projects. There have been many publications in the reputed journals from the department. There are more than 300 books in the library with latest editions and we subscribe to 7 International and 2 National journals in additions to various online resources.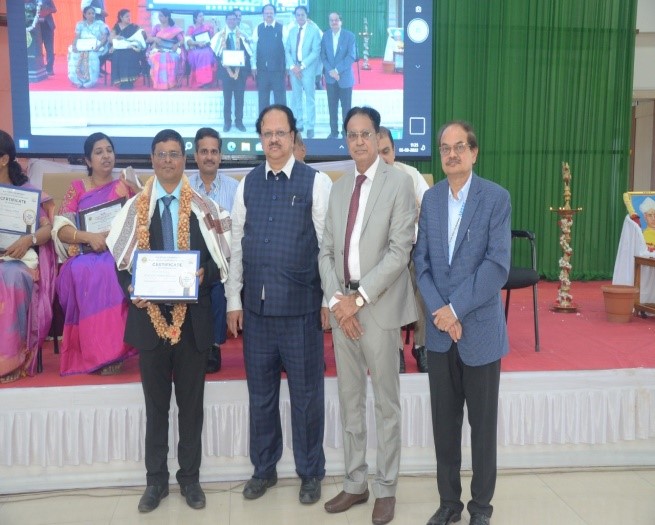 WHAT PEOPLE ARE SAYING ABOUT US !
Don't Just Take it from us,Let our Students do the talking.
Our campus is so full of Greenery and Divinity. Peacefull Library and supporting staff always encourage us in Learning. Technology Sound Classroom Help us to understand subject better
The Warm & Friendly Environment of the college has always encouraged us to the best, they have Always Provided us with Proper balance between Academic Social & cultural activities.
It was Truly amazing 4 yrs of my life.The academic & research experience was really remarkable with a great student friendly Environment. Seriously Speaking It was a home Away from Home