Neurosurgery or neurological surgery, is the medical specialty concerned with the prevention, diagnosis, surgical treatment, and rehabilitation of disorders which affect any portion of the nervous system including the brain, spinal cord, peripheral nerves, and extra-cranial cerebrovascular system.
In last one year we have operated about  250+ cases, it includes Neurotrauma(Head and spinal cord injury), Neuro oncology and spinal degenerative disorders. Neuro oncology- we have operated about 9 brain tumours includes, glioma, meningioma and anaplastic astrocytoma among 9, seven peoples are leading near normal life and they are in follow up. Degenerated spinal cord diseases which is one of the leading cause for chronic pain disorder. In this category, about 80 patients have been treated with surgery and more than 80% people are doing well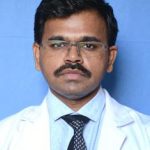 Dr Basavaraj T Badadal 
MS, MCh Neurosurgery
basavaraj.badadal@bldedu.ac.in
Some of the most critical cases Treated
17 year male presented with GTCS – MRI s/o solid and cystic lesion over the left  motor cortex. Tractography- shows displacement of motor fiber tracts guides for safe surgery
Operated with left parietal craniotomy and complete excision of cystic and solid component post op without any deficit

41 year male presented swaying while walking for more than 6 months, on evaluation found to have posterior fossa meningioma
Images represents preoperative, intraoperative and post operative CT showing complete excision of tumour, patient recovered completely 
60 year female presented with altered sensorium, following multiple episodes of GTCS, on evaluation found to have right sphenoid wing meningioma, operated with right fronto temporal craniotomy with complete excision of tumour, patient recovered completely without any deficit
18 year male with history of RTA with head injury operated for right frontal depressed fracture with bone loss, operated with titanium implant with 3D reconstruction.
52 year female presented with severe low backache with lower limb radicular pain, on investigation diagnosed to have L4/L5 grade two listhesis with canal narrowing, operated with L4 L5 trans pedicular poly axial titanium screw and spinal stabilization with decompression achieved, patient mobilised on second day and went well without any post op deficit
39 year male presented with severe cervical radiculopathy, on evaluation found to have degenerated cervical disc diseases at C6 level, operated with C6 corpectomy with artificial titanium cage and fusion done, patient recovered completely without any deficit