"Physiology of today is the Medicine of tomorrow"  (Ernest Starling).
Physiology is an experimental scientific discipline and is of central importance in medicine and related health sciences. Physiology has a long history of two-way interactions with clinical medicine as an experimental discipline. It provides a thorough understanding of the mechanism responsible for homeostasis of a living system, enabling more effective treatment of abnormal or disease states
Physiology is also at the heart of such common tests as the electrocardiogram, simple measurements of blood pressure, exercise-based "stress tests," renal clearance measurements, GI motility studies, pulmonary function, and measurement of electrolytes as key physiological markers, they all help to gain insight into the pathophysiology of a clinical problem.
            We use innovative teaching methods to enhance our teaching skills that provide the foundation upon which we expand our knowledge and understanding of how life processes are deranged by diseases and environmental stress. Students are also exposed to an integrated physiological approach to problem-based learning, clinical decision-making, which will help them during the clinical years and postgraduate medical training.
Hence the department of physiology is fully committed to the principles of Competency-Based Medical Education which are the transmission of knowledge through teaching, generation of knowledge through research and dissemination, and preservation of research through publication.
 The Mission of the Department of Physiology is:
Training Medical students for Lifelong learning, Professionalism, and Ethics
To be an active part of Global Health Science Education and Research
Besides this department of physiology also produces high-quality education to support Ph.D., PG, and allied health science course programs in the campus. The department conducts scholarly work, applied research, and other projects including student short-term ( ICMR-STS, BLDE (DU)- STS) projects that support the physiology and health science discipline. Department also provides Extracurricular education, professional and social experiment that enhances intellectual development of both students and faculty.
VIRTUAL INAUGURATION OF
"Advance Centre of Yoga for Cardiac Prevention and Rehabilitation"
In collaboration with
MORARJI DESAI NATIONAL INSTITUTE OF YOGA CENTRE, Ministry of Ayush, GoI, NEW DELHI
Laboratory of Vascular Physiology and Medicine
The vascular system is the connections of numerous blood vessels in our bodies. The system is comprised of artery, veins and capillaries which can. The major organs support it are heart, brain, lungs and kidneys. It is not easy to keep our vascular system healthy and functionally normal as multiple factors make an adverse impact on the vessels routinely. The malfunctions of the vascular system lead to life-threatening conditions like stroke, IHD, atherosclerosis and many more. Among many physiological reasons, ageing is the most crucial factor that makes a severe influence on the vascular system. The Ageing changes vascular thickness and its elastic recoiling system and alters cardiac hemodynamic The following factors may be considered as responsible for destabilising vascular physiology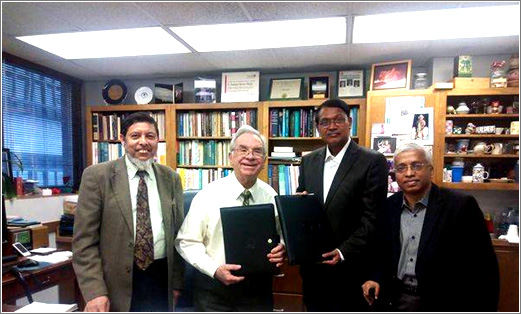 MoU signed by Prof.Luis Gabriel Navar and Prof.M.S.Biradar for 1st official collaboration between the universities. Prof.Kusal Das and Prof.DSA Majid are the Principal collaborators for 3 yrs project. The work will be done under the care of Prof.Das at Laboratory of Vascular Physiology & Medicine, BLDE (Deemed to be University), India and Prof.Dewan S.A.Majid of Hypertension and Renal Centre of Excellence, Tulane University School of Medicine, USA. The Project is entitled "Hypoxia, metal exposure and cell signaling pathways: Evaluation of vascular integrity with renal functions in male albino rats supplemented with ascorbate and calcium channel blocker"
International Hypoxia Symposia 2019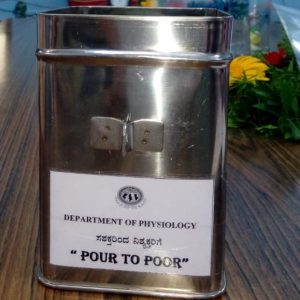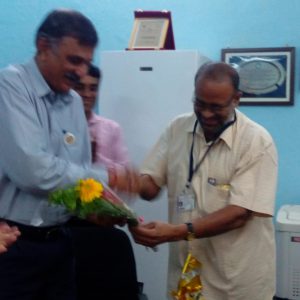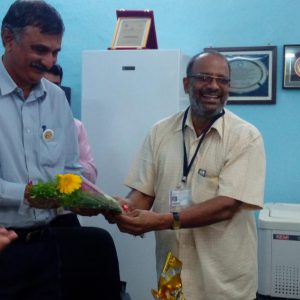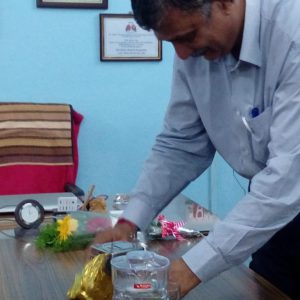 Best Practices in Department of Physiology
POUR TO POOR
Department of Physiology on 29-06-2019 decided to collect the money from teaching faculty on the eve of his/her and their family members birthdays and marriage anniversaries and donate the amount to poor patient in need. 
PLASTIC FREE DEPARTMENT
Department of Physiology on 29-06-2019 decided to ban / not to use plastic plates, cups and glasses. It was decided to use steel glasses plates etc instead. Department purchased all steel glasses and plates with voluntary donations from teaching faculty members.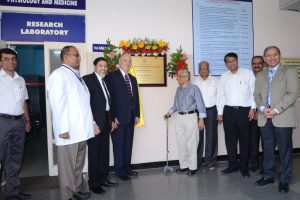 Inauguration of Laboratory of vascular physiology and medicine
By Prof.Robert Carrol, Ph'd USA  and Prof DSA Majid MD Ph'd Tulane University
3rd Annual conference of Association of Physiologists in India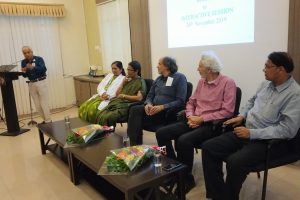 Interactive sessions of Visiting professors with PhD scholars
WHAT PEOPLE ARE SAYING ABOUT US !
Don't Just Take it from us,Let our Students do the talking.
Many thanks for your Incredible Hospitality and generosity.I had an Amazing Experience to Learn about all the ongoing Projects and meet Young and Enthusiastic Faculty.There is so Much Potential and academic excellence.I wish you all the very best in continuing excellence in teaching , research .